Dashboard
The Dashboard is the very first section you'll see when you log in to Teamwork Projects. The Dashboard shows activity and upcoming and current project items, across all projects you have access to, or just specific projects.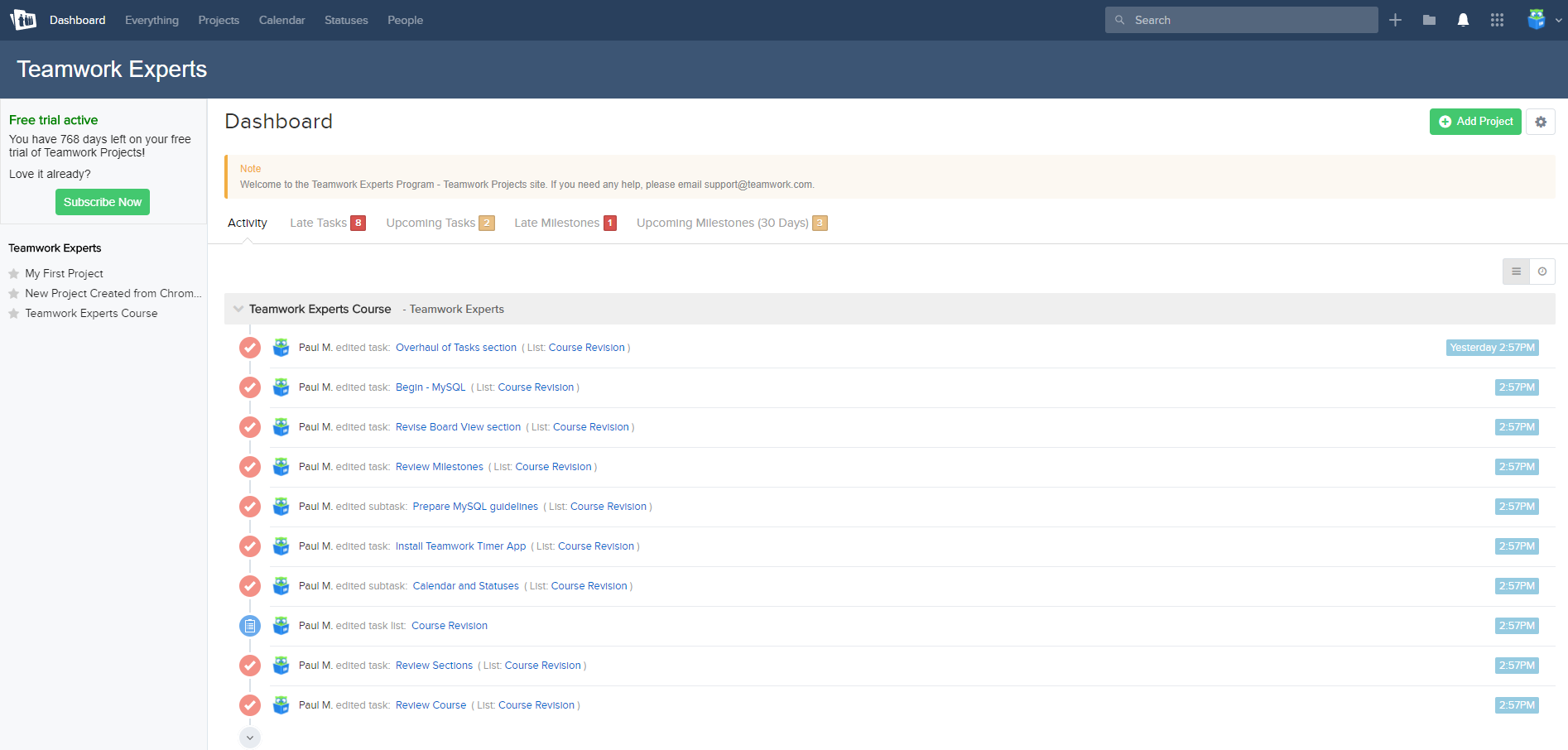 There are a few aspects to the Dashboard, that we will cover in detail below.
Dashboard Message
The Dashboard Message can be set by going to the General tab under Site Settings (Stage 7: Site Settings, 7.1 General). This message is seen at the very top of the Dashboard section, so it will be naturally one of the first things a user will see when they log in.

If you want to edit the Dashboard Message, this can be done by simply hovering over the message, and clicking Edit on the right side.
One of the sections here allows you to edit the message, and the Preview tab shows what it will look like after it has been saved.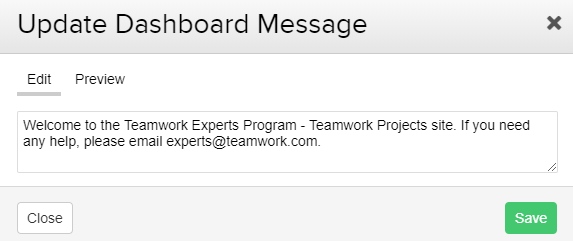 Left Side Panel

There are a couple of details that can be seen in the panel on the left hand side.
If you are on a trial period, you'll see a message showing you how many days you currently have on your trial, plus a link to subscribe. This is very useful as it saves some clicking and extra navigation so that you can subscribe quickly.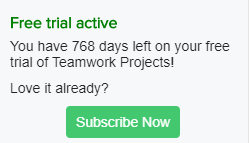 Below this, you will see a list of all the projects you have access to. The Projects are listed under each company that they are associated with.
Note: The site owner and site administrators in the owner company will see all projects listed here, as they don't need to 'formally' be granted access to projects to interact with them.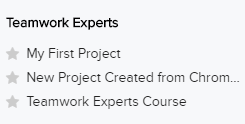 Click on the Star icon to the left of a project name as well, to make it starred. This is a way of making projects favorites, so when you see that project is starred, there is a visual indication of it's importance.
Activity Section
In the Activity tab you'll see a flow of information, based on activity that has taken place across projects you have access to. The activity seen here includes, but isn't limited to the following:
Any project item that has been added
Completed tasks
Edited tasks
Reopened tasks
Edited task lists
Completed task lists
Edited milestones
Completed milestones

From the upper right you can choose to either sort the activity by date, or by project.
You might also notice that there is an arrow button there at the end of a particular activity section. Click on this to see more activity from that project.
There is also an RSS feed option. This allows you to create an RSS feed, that can be used in RSS software you're using.
Dashboard Settings

You can customize what you see in the Dashboard, by going to the Dashboard Settings at the upper-right.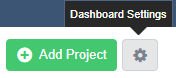 The following options are available: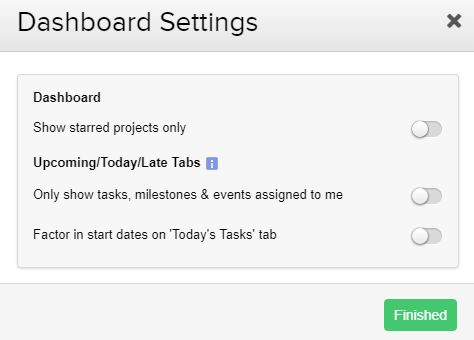 Show starred projects only

You can only enable this option if you have at least one starred project

Only show tasks, milestones & events assigned to me
Factor in start dates on 'Today's Tasks' tab
Add Project
Just next to the Dashboard Settings option, there is an option to add a project. The options here are same as when adding a project, from the Projects section. Adding a project is covered in more detail later in the Experts course.
Items in the Dashboard

There are a number of extra tabs that will show in the Dashboard related to items in your projects and Calendar events. You might see the following, as more and more is added to your Teamwork Projects site.
Late Tasks
Today's Tasks
Upcoming Tasks
Late Milestones
Upcoming Milestones
Upcoming Events
For each of these tabs, you will see a number next to it indicating the number of items that are considered to be late, for today, or upcoming.
Feedback Survey
We're always interested in knowing what our customers think. A feedback survey is presented to site owners at the bottom right hand side of the screen:

The survey consists of scoring whether you would recommend Teamwork Projects to a friend, from 0 - 10.
You'll also have the ability to add a comment: